Outstanding School Governors in Hertfordshire recognised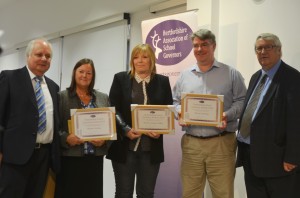 The outstanding work of school governors in Hertfordshire has been recognised this weekend at the first Outstanding School Governors Awards 2014.  The awards, run by Hertfordshire Association of School Governors (HASG) and the UK's largest, not-for-profit School company, Herts for Learning, took place on Saturday 15th November at Hertfordshire Development Centre in Stevenage and formed part of the Hertfordshire Governors Annual Conference.
The awards, the first of their kind in Hertfordshire, have been established to publicly recognise, not only the contribution of individual school governors, but to celebrate the dedication and commitment of all governors in Hertfordshire's 525 schools.
Schools across the county were asked to nominate a governor/s who they believe has really made a difference and helped to improve the educational outcomes of children in their school.  Many nominations were received and reviewed by an independent panel of judges from HASG and Herts for Learning, and from these, a short-list of 38 governors was drawn up.  After further review, eight finalists were selected, with three receiving the Outstanding Governor of the Year award; winning £500 for their school and a £50 individual prize.
Finalists selected from 38-strong short-list
The eight finalists represent schools in South Mimms, Hitchin, Berkhamsted, Stevenage, Watford, St Albans, Tring and Ware.
The three Outstanding Governor of the Year Awards went to:
The five runners-up were:
Rosemary Bolton, Presdales School Academy Trust, Ware,
Colin Minton, Hitchin Girls' School Academy, Hitchin,
Paul Elley, Goldfield Infants' and Nursery School, Tring,
Kevin Rylett, St Michael's Catholic High School, Watford,
Canon Brenda Tipping, St Giles CoE Primary School, South Mimms.
What made the difference
The shortlisted candidates merited their selection through some glowing nominations some key elements of which are given below:
Lin Keen – for her role in guiding the school through its journey of improvement to that of an Outstanding school.
John Sloan – an ability to ask searching questions and raise the level of strategic thinking, built a strong team of experts to support the school and ensured Outstanding Ofsted.
Jacky Webby – taking over at a low-point her energy & enthusiasm has helped the school turn round, increasing pupil numbers by 50% and securing additional facilities.
Rosemary Bolton – leading the school through the conversion process from school to academy.
Colin Minton – highest levels of professional support leading the drive for change, canvassing for funding for much needed facilities and contributing to Outstanding Ofsted.
Paul Elley – strong leadership maintaining Outstanding Ofsted, managing major project replacing ICT.
Kevin Rylett – support to the wider community in his role as Trust Academy Director and as a National Leader of Governance.
Canon Brenda Tipping – unswerving support for her school over the past 9 years.
Celebrating Governors
Commenting on the Outstanding School Governor Awards 2014, Paul Rosen, Chair of Hertfordshire School Governors Association said:
We are delighted to be able to celebrate our governors in Hertfordshire for the efficient and dedicated work that they do within their schools to support children and young people in receiving the education they deserve.  We had an overwhelming response from schools across the county to the awards, and whilst we chose three awards this year, we could have chosen 33 or 300 – it still wouldn't be enough!

We value enormously the contribution made by governors in this vital role and thank all of them for willingly giving up their time, expertise and commitment to support our schools.
The Hertfordshire Association of School Governors is an independent organisation that supports and informs school governors, to ensure their views are heard and to promote high standards in school governance.
Herts for Learning Ltd, is the UK's largest School company.  Developed from Hertfordshire Local Authority's education services, the company is 80% owned by schools (20% by Hertfordshire County Council), with 98% of Hertfordshire schools now owning a share of the company.
A not-for-profit organisation dedicated to raising standards and improving teaching and learning, Herts for Learning Ltd provides high quality teaching, learning, leadership and business support to schools and education settings in Hertfordshire and beyond.
Other short-listed nominees
In addition to the eight finalists, the other 30 short-listed governors were:
Adrian Jackson-Robbins, Roundwood Park School, Harpenden
Andrezej Gaudyn, Great Gaddesden CoE School, Great Gaddesden
Anita Parfitt, Kimpton Primary School, Kimpton
Barbara Whitford, Holtsmere End Junior School, Hemel Hempstead
Bernard White, Burleigh Primary School, Cheshunt
Brian Drummer, Howe Dell School & Children Centre, Hatfield
Catherine Shadbolt, Woolenwick Junior School, Stevenage
Clare Milner, Garden Fields JMI School, St Albans
Colin Barry, Leavesden Green JMI & Nursery School, Leavesden
Dave Postance, Trotts Hill School, Stevenage
David Standing, Weston CE Primary School and Nursery (VC), Weston
Eileen Dutt, Our Lady Catholic Primary School, Hitchin
Elizabeth O'Reilly, Greenway First and Nursery School, Berkhampsted
Erica Tuxworth, Alban Wood Primary School and Nursery, Watford
Geoff Strack, St Nicholas School Elstree C of E (VA) Primary School, Elstree
Gill Hill, St Nicholas School CE VA Primary School, Harpenden
Graeme Franklin, Woodlands Primary School, Borehamwood
James Griffiths, St Helen's School VA, Wheathampstead
Janet Woods, St Helen's School VA, Wheathampstead
Jennie Simms, The Highfield School Foundation/Trust, Letchworth Garden City'
John Allen, Redbourn Infant & Nursery School, Redbourn
Katy Wilmhurst, Manland Primary School, Harpenden
Kerry Pollard, Batchwood SBED School, St Albans
Lesley Morton, Cheshunt School, Cheshunt
Nicky Clarke, Almond Hill Junior School / The Barclay School, Stevenage
Renshaw Watts, Kimpton Primary School, Kimpton
Richard Aggus. The Nobel School, Stevenage
Susan Fairburn, St George's School, Harpenden
Suzanne Davis, Roundwood Primary School, Harpenden
Tony Grainger, St Cuthbert Mayne School VA, Hemel Hempstead
For further press information, please contact Jo Leigh at Herts for Learning
Tel: 01438 844131
Email: jo.leigh@

null

hertsforlearning.co.uk