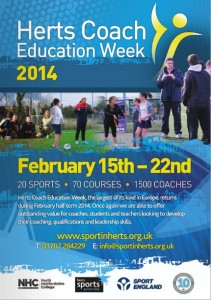 Herts Coach Education Week 2014 sees the launch of the Herts Sports Science Programme.  Rob Hardwick, Coaching Development Manager with Herts Sports Partnership, commented:
Increasingly, sports science is used by top level coaches to achieve the best results possible.

We're delighted to be launching our sports science programme during Coach Education Week. These short workshops will help coaches to understand how they can get the best out of their athletes and teams.

There'll be more workshops running through the year, offering coaches a real opportunity to raise their awareness of sports science.
Running 15th to 22nd February this event offers 70 courses in 20 sports for up to 1,500 coaches, teachers & students looking to develop their coaching qualifications & leadership skills.
To find out more please click this link.