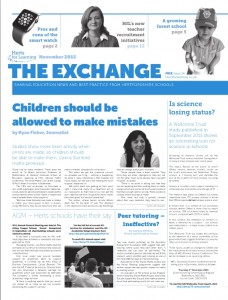 November 2015 Exchange
The latest edition of The Exchange is now available online at http://bit.ly/TE-November15.
This edition includes:
Allowing kids to make mistakes helps the brain grow,
Launch of new Teach in Herts website,
New school based app – MarvellousMe,
Two brand new services: Coaching and Office management,
Hertfordshire Healthy schools, healthy, happy children can achieve more,
Exchanging Excellence – benefits of summer school for a smooth transition,
What's on – upcoming training courses.
…. and much more!
Do you have something you want HfL to cover? Get in touch!
Please contact our editorial team with queries: theexchange@nullhertsforlearning.co.uk If schools would like to receive extra copies please also get in touch. HfL welcome any feedback or content suggestions for future editions.