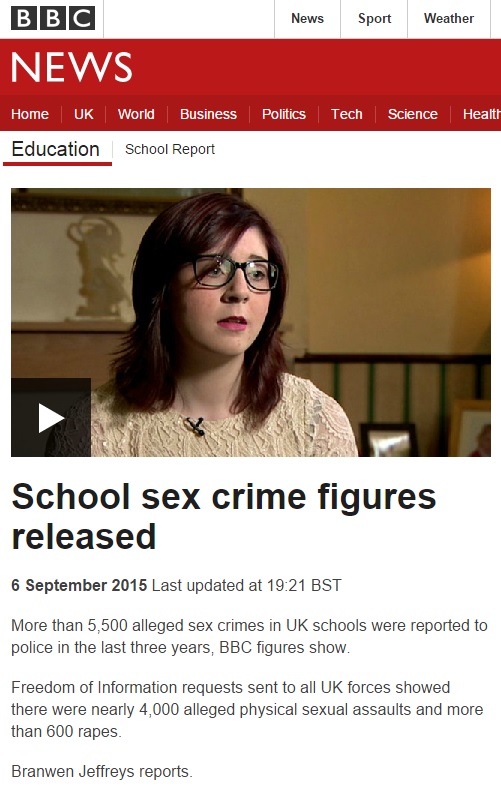 High numbers of alleged sex crimes in schools
This week, the BBC reported on the figures from a freedom of information request to UK police forces on the number of alleged sex crimes in schools. The information revealed that between 2012 and 2015, there were 4,000 alleged physical sexual assaults – a fifth of which were carried out by children. Of the 4,000 sexual assaults, there were 600 instances of rape.
Both senior police and NSPCC officials suggested that there may be significantly more unreported instances. The Children's Commissioner for England, Anne Longfield, called for:
Personal Social Health Economic Education with a relationships and sex component to be part of the national curriculum.
Currently, sex and relationship education (SRE) is only compulsory in maintained secondary schools. NGA in its evidence to the House of Commons Education Select Committee in 2014 recommended that it should also be compulsory in primary schools. Although the Select Committee agreed in its report on the subject, the government has chosen not to adopt the recommendation.All schools should have effective safeguarding policies and practice. The NGA will shortly be publishing safeguarding guidance for governors. In the meantime there are a number of questions governors can ask senior leaders.
Questions
Do we keep children safe and healthy?
Do we meet the statutory health and safety requirements?
How does the school ensure it keeps up to date with relevant health and safety regulations and guidance?
Is there a designated health & safety co-ordinator; safeguarding/child protection governor?  are governors and staff aware of who this person is?
How often are safety inspections carried out and are the outcomes reported to the governing body?
Are the school's procedures for dealing with a breach or incident clear?
Are staff clear about the procedures for dealing with health and safety emergencies?
Does the school have clear and proportionate procedures in place for approving (risk assessing) school trips/outdoor activities?
How are child protection issues monitored, do we have a child protection coordinator (name, contact details)?
Are staff aware of the procedure that needs to be followed when they have concerns about child protection?
Have staff and governors received appropriate child protection/safeguarding training?
Do we run e-safety awareness training for staff, governors, pupils and parents?
Have we ensured we have sought information to identify any members of staff who may be disqualified under the new disqualification criteria in early years?
Does our curriculum include PHSEE and specifically information on sexual health and consent if appropriate?  (Depending on age).
Do you have the opportunity for visiting experts? (School Nurses).