Managing Change Governors Conference 2018
With the theme of 'School Leaders Managing Change', Herts for Learning (HfL) was delighted to welcome over 200 governors to the 2018 Hertfordshire Governors' Conference on Saturday 17th November.  Delegates enjoyed a comprehensive conference programme jointly put together by the HfL Governance Services team and the Hertfordshire Association of School Governors (HASG).
Opening

Opening the conference, HfL's Managing Director, Andrew de Csilléry, recognised the important and integral role that governors play, as volunteers, in raising school standards in Hertfordshire.
Andrew spoke about the recently launched HfL online training programme for governors, which offers a flexible development programme for governors to undertake remotely, at any time.  Governors have welcomed the new online programme, currently with five learning modules, has which will continue to evolve over the coming months.
He also explained how HfL supported the common good of Hertfordshire schools by reinvesting any surplus into new services aimed at addressing key challenges for HfL shareholding schools.  Andrew said that the HfL Board recognised that teacher recruitment remained a "critical challenge for all schools" and subsequently HfL was investing a further £120,000 in teacher recruitment activities this year.
Current Academic Results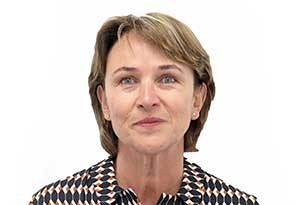 Rachel Macfarlane, Director of Education Services at HfL, shared an overview of Hertfordshire's current academic results, which remain ahead of both national results and those of Hertfordshire's statistical neighbours for the number of schools rated good and outstanding by Ofsted, and for key pupil outcome metrics at all stages of education from Early Years through to Key Stage 5.  However, Rachel explained that the real educational challenge for Hertfordshire is an increasing gap in attainment between advantaged and disadvantaged pupils, which is above national levels.
To help address this issue, she announced that HfL has invested £20,000 in a new collaborative leadership programme called 'Great Expectations', designed to identify and disseminate best practice from Hertfordshire schools that have successfully closed the gap in attainment for disadvantaged and vulnerable pupils.
AGM & Outstanding Governor Awards
During the conference, HASG held their Annual General Meeting and voted in Michael Taylor as the Chair of HASG, and Robert Smith as Vice Chair.
Robert also announced the winners of the HASG Outstanding Governor Awards 2018 – see article here.
Role of Governors in Managing Change

Paul Brooker, Ofsted's Regional Director East of England, led the first keynote of the day.  He spoke about the role that governors have in managing change and improvement planning in schools.  In addition to Ofsted myth-busting, he also addressed the need to reduce the workload of all school leaders; this included governors, and he challenged governors to think about what they were doing to reduce the burden of workload.  Paul also referenced future changes to the Ofsted framework, which he called an "evolution, not a revolution".  He explained that the curriculum would be at the heart of the new framework, underpinned by the need to demonstrate the three "I's":
Intent,
Implementation, and
Impact/achievement.
What makes a transformational teacher?

The second keynote speaker was Phil Beadle, author, award-winning broadcaster and former UK secondary teacher of the year.  Phil led an energetic, interactive and thought-provoking session which focused on "What makes a transformational teacher?"  He challenged delegates to think about the effect that preconceptions have on developing relationships and how this translates to the classroom. Phil concluded that a truly transformational teacher understands that their expectations of individuals can be a self-fulfilling prophecy.
Other Seminars
Throughout the day, delegates had the opportunity to choose from and attend seminars covering diverse subjects such as:
closing the gaps,
GDPR,
performance data,
finance,
safeguarding,
research and practice,
governor recruitment,
and community networking.
Closing Notes
In closing the inspiring and informative day Michael Taylor thanked everyone for attending the annual conference. He also showed appreciation for their leadership, commitment and many contributions as Hertfordshire governors.
Cathy Irons, Head of Governance Services at HfL, said of this year's conference:
School governors are one of the largest volunteer forces in the country and the Herts for Learning Governance team always look forward to the annual governors' conference as an opportunity to inspire and thank our committed governors for everything that they do.

We are always delighted by the high attendance at this annual event.  The feedback from attendees confirms that governors really value the conference and find it an informative and worthwhile day.
Next Year
Organisers will announce the date for next year's Hertfordshire Governors' Conference before the end of the autumn term.
For further information about the range of support services offered by the HfL Governance team please visit: www.hertsforlearning.co.uk/business-services/governance.